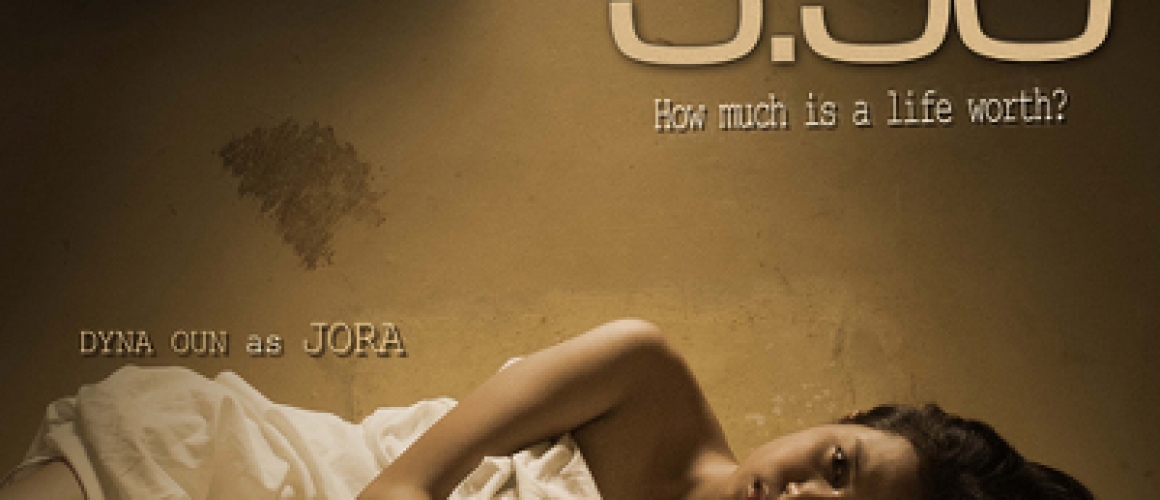 Logline
When a young Cambodian village girl is sold off into prostitution, a brash American documentarian ventures into the underbelly of Phnom Penh to pursue her story, as she crosses paths with various other lives affected by the unspeakable terrain of the country's sex trade.
Synopsis
How much is a life worth? What is the price of integrity?
"3.50" is a multi-layered story that follows a foreign journalist, an underground doctor, an auto rickshaw-driver, a street peddler and a prostitute, as they navigate the socio-economic tensions that allow poverty and its problems to flourish.
When REBECCA WILSON, a documentarian and American expatriate living in Phnom Penh stumbles onto the story of fifteen-year-old JORA, a village girl who was sold into prostitution, her journalistic instincts and moral convictions take over. She sets on a quest to pursue the story and rescue the girl.
Venturing into the Cambodian capital's sex industry with reckless abandon, she investigates VANNA, the cruel female pimp that operates in the lucrative virginity trade, where innocent young girls are sold to the highest bidders.
As Rebecca's mission exposes the city's criminal elements, she crosses paths with various players at their own moral cross roads; people who earnestly hope to surrender to the better angels of their nature but yet to discover the courage within them to change.
When SOPHEAP, a teenage street peddler learns that Jora, his village sweetheart has been sold into prostitution at the very brothels he wantonly frequents, he is wrecked with guilt. He had left her at the village to find a decent living. But seduced by the bright lights of a decadent city life, he had not returned as promised. Compelled to help Jora escape from the clutches of Vanna, and yet unable to find the money to redeem her, Sopheap's naïve desperation makes him easy prey to Vanna's scheming manipulations.
After losing his medical license for a fault that wasn't his, DR. KIRI works as an underground doctor, performing illegal abortions, treating girls after nights with violent clients, and sewing up hymens, so that the girls can be resold as virgins. He deceives himself that he is providing medical attention to prostitutes who would otherwise not receive help, but forgets that while he heals their bodies, he continues to destroy their souls. The suicide of one of his young patients leaves Kiri's Hippocratic Oath sundered and emotional state in tatters.
As a tuk-tuk (auto rickshaw) driver trying to make ends meet, CHEA is a pragmatic man. The rising tide of progress has not lifted every boat, and Chea sails his own path, his own way, to stay afloat. He gets additional tips for recommending tourists to the "best girls", and moonlights as Vanna's transporter, ferrying the girls in a van when secrecy is required. But when his actions result in repercussions to his family, his conscience gets awakened. Chea comes to the conclusion that sometimes, the hardest thing to do, might just be the best thing for the soul.
Rebecca's single-minded goal to expose Vanna's heinous crimes brings her into dangers she had brashly ignored, as she finally spirals into depths she may never escape.
Set in modern-day Phnom Penh, the city stands as a microcosm of silent prayers and shattered dreams where disparate individuals are tormented by their conscience in desperate circumstances.
Character Bible
LEAD CHARACTER:    REBECCA – The Brash Documentary Filmmaker
An over-achiever her entire life, thirty-three year old REBECCA WILSON fails where it matters most, in her family. A single mother to an adorable nine-year old son Adam, her failed marriage makes her even more determined to prove herself.
Rebecca makes documentaries that she webcasts to a huge online fan base, with a single-minded quest to change the world through her stories. She brashly treads into topics that others avoid, often creating unnecessary friction… friction she has always managed to overcome with her attractive smile and dogged persistence, until this time.
When she starts to pursue Jora's story and expose the sex-trafficking trade, she finds herself embroiled in something more serious than she can handle. And when the only chink in her armor, Adam's life is threatened, Rebecca cracks, to fateful consequences.
Sometimes, the things you want to change, change you instead.
LEAD CHARACTER:    JORA – The Village Girl Turned Prostitute
Left alone with aged parents in her village when her childhood sweetheart Sopheap went to the city to make a living, 15-year-old JORA is sold to Vanna, a rapacious mama-san.
Jora's clings on to hope, defying the hand that fate has dealt her. But after her virginity is sold, Jora finds herself forced into giving up her body and dignity at every turn. Abused and reused by all manner of men, the shame shreds away every sliver of hope she has left. And when all hope seems lost, she manages to escape.
As a broken women now, would she dare to hope for Sopheap's love?
Would you persist in hope when it brings more pain, or numb yourself by accepting the hand of fate?
SUPPORTING CHARACTER:   VANNA – The 'Brothel Owner'
A beautiful and poised lady in her forties, Vanna looks hardly different from two decades ago when she was the object of lust for countless men. She has learnt from the sordid nights how to protect herself… "Men think through their groin and women through their hearts". Twist them where it matters and they can be easily manipulated.
Vanna had risen through the ranks and become a 'mama-san', running her own brothel. She holds captive young girls and rents them out by the hour to men with little conscience and even less concern about sexual safety. Her moral compass informs her that there is no room for concern and ethics in her world and that she is merely doing what it takes to survive.
She manages a few hired goons to acquire, protect, and herd her assets – young girls kidnapped or bought from villages outside the city.
SUPPORTING CHARACTER:   DR. KIRI – The Underground Doctor
In his early forties, Dr. Kiri bears the weariness of a man who has lived two vastly different lives. Once a prominent doctor with a promising future, Dr. Kiri's medical license got suspended when he was made the scapegoat of a fateful medical mistake.
Dr. Kiri is paid well as an underground doctor, as much for his work, as for keeping his mouth shut. He performs illicit abortions, sews up hymen to "recreate" virgins, and patches up the wounds that violent clients leave behind. He assures himself that he is providing medical care to girls who would otherwise not have received treatment. But he knows he is deceiving himself. He has saved their bodies, but destroyed their souls. As much as he tries to harden his heart, Dr. Kiri remains conflicted.
No one can put a bigger wall, than the one you put up around yourself.
SUPPORTING CHARACTER:   CHEA – The Tuk-Tuk Driver
Chea is a typical Cambodian man in his late-forties. The rising tide of economic progress has not lifted every boat, and he is one of the victims of the growing income disparity. To make ends meet, he charts his own course, through morally murky waters.
Chea works hard as a tuk-tuk driver around the Sisowath Quay area, where he often ferries clubbing tourists "to find the best girls". To make ends meet, he also moonlights as a "transporter" for a brothel, ferrying the girls in a van when secrecy is required, like when a bunch of new village girls are brought in, or when a girl needs to be brought to the underground doctor.
When the mama-san Vanna discovers that Chea's wife works for the troublesome documentary filmmaker, Rebecca, she suspects his loyalty and sends hooligans to get her message across. Conscience catches up with Chea and he hatches a plan to free the prostitutes.
SUPPORTING CHARACTER:   SOPHEAP – Jora's Boyfriend
Street smart and a roguish charmer, seventeen-year-old SOPHEAP peddles a variety of knick-knacks to tourists. He had left his village sweetheart, Jora, for better opportunities, planning to return a year or two later to marry her. But the seductive temptations of big-city living get the better of him.
When Sopheap discovers that Jora has been conned to work for Vanna, at a brothel he frequents, his moral center gets shaken. He learns that her virginity will be sold to the highest bidder and attempts to rescue her, but fails. His best friend persuades him to forget Jora. She has become a 'broken woman', dirtied by men, only worthy of lust but not of love. But Sopheap realizes that he is the one who is unworthy. He had broken his promise to her, and now even failed to protect her.
Sopheap tries desperately to earn money to redeem Jora, but the meager amount he finds is futile. Incensed with Rebecca's attempts to expose her operation, Vanna gives Sopheap a chance to redeem Jora… take the life of Rebecca.
Before questioning others' worth, let's reflect on our own.
MINOR CAST:  INSPECTOR PRAK – Police Inspector, Rebecca's Friend
A resilient survivor who has seen the country destroyed during the Khmer Rouge regime, fifty-something Inspector Prak is tough as nails, but holds a gentle spot for Rebecca. Prak has a complex relationship with Rebecca. He notices her attractiveness, admires her noble quests, respects her abilities, but is irritated by her overbearing "West-is-best" mentality.
Prak has seen enough in the world to know how society ticks. He is fiercely protective of the city's denizens and dedicates his life to serve them. Intelligent and wise, Prak's methods may seem slow and ineffective to outsiders, but his ability to work the system offers a different perspective to the disenchantment.
Creator's Statement
This is emotionally the toughest project that we have ever taken. We did not want to create another Hollywood style, 'White guy comes in gun-blazing and saves exotic Asian girl" kind of story and thus invested a lot of time to careful research. Through interviews with various NGOs that are involved in the rescuing and rehabilitation of the victims, we learnt many heartbreaking truths and accounts… stories that often brought tears to our eyes when we were doing research, and as we were developing our story for the script as well.
Our goal is to create a fictitious story that is inspired by true situations on the ground. We adopted a twin protagonist approach juxtaposing the lives of Jora the village girl and Rebecca the American filmmaker. Rebecca is the antithesis to Jora, and shows the irony of stereotypes that people have. Around Jora's plight and Rebecca's quest to "play the hero", we weave supporting characters that revolve around the trade. Each of them has a story arc to tell, and each is cleverly interwoven with the main story, to reveal different layers for audiences to uncover.
In the real world, the truth is never simple. There is never a flawless hero or a villain without a reason. A hero and a villain exist in every person. What inspires people to draw on their inner strengths to face mounting problems and achieve heroic deeds? And what are the triggers that push a person to their breaking point, where morality and conscience is cast aside? In this story, we show these two sides in each character.
The story is crafted to explore human nature, the failures and redemptions of man. Every main character in the story goes through an arc, where they lose and find themselves. True to real life, there are seldom victories without pain, or defeats without a silver lining. There is no happily-ever-after ending to this story, nor a disappointing bleak conclusion. Instead, the story ends with bittersweet moments, completing a cycle for every character. Not every character emerges happier, but each character emerges wiser, taking away something that will serve them well, perhaps later in life. Justice is always served.
The premise of the Film may be heavy on the heart, but behind each sad story lays a glimmer of hope. It will bring tears, yet inspire. It will arouse anger, and also awaken empathy. We want to show the cruelty that human being is capable of, and also the resilience of the human spirit in the face of adversity. We can all be the cause of our own biggest downfall, or the hero to save ourselves from difficulties. Each of us holds in our hands the ability to write the ending of our own stories.
Format:                 Feature Film
Genre:                   Dramatic Thriller
Running Time:    106 Minutes
Language:             Khmer, English
Location:               Cambodia
Trailer http://vimeo.com/71800567